Background
Ahkab Cr had always been the crew's best harpooner, never thinking twice about diving to extreme depths to bring back rare fish or seashell species. Until the day, that is, when a strange coral symbiote grafted itself to his skin and started to gradually transform him. He now lives in the sea more than on board ship and Bloodh only ever sends Scubb to get him for boarding or very big fights.
Trivia
Ahkab's name comes from the literary seaman, Captian Ahab from the novel, Moby Dick.
In the later pictures, the coral symbiote resembles what happened to the fictional pirate, Bootstrap Bill.
Card Artwork
LV 4.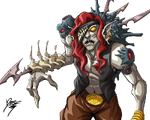 LV 5.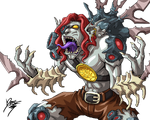 Full Artwork
LV 5.
Community content is available under
CC-BY-SA
unless otherwise noted.