Background
Half-man, half-vegetable, Aigwon is constantly changing from an immobile, silent tree into a walking, talking human being. At Caelus's request, he does his utmost to remain human while teaching and to only change back into a tree at night-time, although his students aren't particularly bothered by having a teacher who doesn't move or say anything for an hour or so.
Advantages and Disadvantages
Advantages:
His damage is 6, and becomes 8 with fury, allowing you to 2HKO with some of the other members of Skeelz.
His ability is Stop Opp. Ability, which makes most of his fights much easier.
His bonus ensures his ability stays, as long as he isn't facing an all stop.
Disadvantages:
His 6 power is good, but is overall weak for a 4*.
He is a 4*, so he takes up room in your deck.
He has a lot of competition from the other 4* in Skeelz.
Missions
An Approximate Christmas Miracle: Inflict 120 Damages with Aigwon (Christmas Eve 2014)
Trivia
The tree Aigwon is holding in his Lv.1 pic is a mini-bonsai tree.
The tree he transforms into throughout his levels is an oak tree.
In the John Sein art files, Aigwon is addressed as "Skeelz Arbol."
In his last level, Aigwon is a living tree called an Ent.
His Noel form proves that he can transform into different kinds of trees.
Card Artwork
LV 4.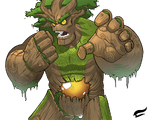 Full Artwork
LV 4.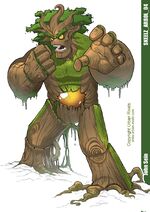 Community content is available under
CC-BY-SA
unless otherwise noted.