Background
Not many people know it but Aigwon loves to dress up! And beneath his thick skin lies a generous heart. Nothing pleases him more than giving gifts to the baby trees or failing that, to human children. So, he's taken two weeks' vacation before Christmas to organize a lovely surprise for the students of the Skeelz Academy...
Advantages & Disadvantages
Advantages:
Disadvantages:
Missions
Garlands for Aigwon: Win 15 fights by finishing with a knock-out from Aigwon Noel (Christmas Eve 2014)
Trivia
Given his superpowers, he is one of two Noel cards not to be wearing a complete Santa suit. The other is Brampah Noel.
Card Artwork
LV 4.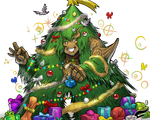 Full Artwork
LV 4.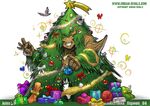 External links