Background
No one and nothing can resist Avola, from men's hearts to the locks on safes. But over time, Avola's realized there's more to be gained from the latter than the former, which is why she joined the Montana and hasn't looked back. And neither of course has Don…
Advantages & Disadvantages
Advantages:
Her base power is 7, which is good for a 5*.
Her base damage is 5, but becomes 7 with fury, allowing you to 2HKO with some of the other members of Montana.
Her ability increases her damage for each member of Montana in your hand, meaning she could become a potential 7/9.
If you fury with her, while her damage is activated, she becomes a potential 7/11.
Her ability makes her a very good bluff to use, since your opponent doesn't know whether or not you plan to attack.
The clan bonus takes 12 attack away from your opponent, which helps in low-pill fights.
Disadvantages:
Her base damage is 5, which isn't very good for a 5*.
She is weak against SoA, since it keeps her damage at 5.
Her main weakness are cards like: Bristone, Yookie and Yayoi Cr, who not only cancel out her ability, but also reduce her damage.
She is a 5*, so she takes up a lot of room in your deck.
She has competition from the other 5* in Montana, but since Vickie Cr is perma-banned, there isn't much other competition in Montana.
Strategy
She has a solid 7 power along with a -12 Opp. attack bonus making her good in winning the battle. She has a decent damage of 5, and with her ability of Support +1 Damage makes it so that in a Mono deck she can have a total of 9 damage! With Fury and a Mono deck you can do 11 damage! You can 2HKO with anything after that!. This enables her to be able to actually be an impressive opponent with her 7 power and Montana bonus or she can be a very scary bluff.
Quotes
Trivia
On her final level pic., if you look at the bags of money beside her, you will see that instead of the Clintz symbol (which is a cent sign with two lines) that is used in Clint City, the US dollar symbol is used instead. A similar case is fellow clan member, Donnie.
Her name is based off of a city in Syracuse, Italy, which is famous for its red wine.
Card Artwork
LV 5.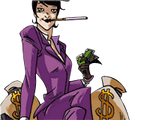 Full Artwork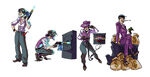 External links
Community content is available under
CC-BY-SA
unless otherwise noted.