Background
A very studious and hardworking student, Aylen can divide herself into as many doubles as she likes. A very useful talent for taking various courses at the same time or for reading a book while finishing off an essay. And when needs be, it means she's always got cheap help on hand to get the shopping or housework done.
Involvement
Strategy
Quotes
Advantages and Disadvantages
Advantages:
Her base power is 7, which is good for a 5*.
Her base damage is 5, but becomes 7 when you fury with her, allowing you to 2HKO your opponent with other members of Skeelz.
Her ability creates a large gap between you and your opponent. While you receive 5 life points, your opponent loses 5 life points, which makes that hard to recover from.
She fights well against damage reducers, because she will gain life points back, no matter what her damage is.
Her ability stays activated, because of her bonus, unless she is facing an all stop.
Disadvantages:
Her damage is low for a 5*.
As a 5*, she takes up a lot of room in your deck.
She has a lot of competition with the other 5* in Skeelz.
Trivia
Aylen seems to be based off of Hermione from Harry Potter. Like Hermione, Aylen is very studious, and found a way to take multiple courses at the same time (Aylen with clones, Hermione with time travel).
She, along with Liam, were the first in the Skeelz's Space & Time class and both drawn by Fudge.
She used to be the only female Space & Time student until Xingshu was released, five years later.
Her power is nearly similar to the shadow clones from Naruto.
Card Artwork
LV 5.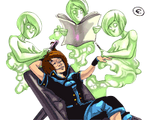 Full Artwork
External links