| | |
| --- | --- |
| | |
| Clan | Freaks |
| Bonus | Poison 2, Min 3 |
| Ability | -2 Opp Pillz. Min 3 |
| Rarity | Rare |
| Released | May 21, 2010 |
| Artist | fudgegraphik |
| Stars | 5 |
| Stats lv 2 | 3/4 |
| Stats lv 3 | 5/4 |
| Stats lv 4 | 7/4 |
| Stats lv 5 | 8/6(Ability activated) |
Background
As a master of illusion and magic, Baldovino's career has been a series of ups and downs. However, since he gave up trying to bend the minds of his audience into handing him over half their income, he's had a lot less trouble with the forces of law and order.
Web comic
This card hasn't appeared in a Web comic yet.
Missions
None at the moment.
Advantages and Disadvantages of the card
Advantages:
He has a base power of 8, which is good for a 5*.
His damage is 6, but becomes 8 with fury, allowing you to 2HKO with some of the other members of Freaks.
His ability removes two pillz from your opponent after you win with him.
The minimum for his ability is three, which is low.
The clan bonus removes two life your opponent after every round if you win with him.
Because of his ability and stats, he makes a very good bluff.
SOB doesn't hurt him, since he can still rely on his ability.
SOA also doesn't really hurt him, since he can still rely on the Freaks' bonus.
Disadvantages:
He is a 5*, so he takes up a lot of room in your deck.
He is a rare, so he can be hard to get in packs.
While his minimum is low, it makes him sorta useless in the later rounds, since your opponent will have most likely have used up most of their pillz.
Trivia
On the new UR site, before a fight, it can be seen that Baldovino might be the new leader of the Freaks after Boris Cr's departure.

This was later confirmed by the developers themselves on Instagram.

His way of using illusions and tricks to make people give him their money is often used by street magicians and tricksters.
His appearance, and the fact that he hypnotizes his victims, are taken from the supervillain, Ringmaster from the MARVEL comics, who also used a special hat to hypnotize his victims.
Card Artwork
LV 5.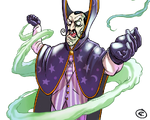 Full Artwork
Useful links
Community content is available under
CC-BY-SA
unless otherwise noted.