Background
Beeboy was running a center aimed at distancing young people from crime by organizing rap and breakdancing events, for which he was particularly talented. Unfortunately, his center was shut down by the scheming Government who didn't see his deeds in a favorable light. So when Bodenpower extended the hand of friendship to him, he signed up with the Bangers there and then to join them in their fight against the system.
Web comic
This card hasn't appeared in a web comic yet.
Missions
None at the moment.
Advantages and Disadvantages of the card
Advantages:
His base power is 7, which is very good for a 5* card.
His base damage is 7, which is very good for a 5* card.
His ability allows him to use the opponent's clan bonus. This helps him increase his power or damage when going up against Bangers, Fang Pi Clang, La Junta, or Ulu Watu. This also helps him tremendously when facing Frozn or Rescue.
Because of his ability, his bonus will not be affected by Nightmare and Piranas' bonuses, which normally cancel the clan bonuses.
His ability and stats make him a very good bluff.
The clan bonus increases his base power by two, making him a potential 9/7.
Disadvantages:
He is a 5*, so he takes up a lot of room in the deck.
He has competition from the other 5* cards in Bangers.
He is often banned from ELO.
Tactics
Trivia
Beeboy's name is a pun on the term b-boy (which is used to describe a breakdancer).
His reason for joining the Bangers is based off the plot from the movie, Breakin' 2: Electric Boogaloo, in which a community rec center was involved (however in the movie they saved the rec center, while Beeboy had his closed down).
His departure announced that he was approached by Gail Ld of the Uppers to star in his new TV show called, "Beeboy the Big Brother", which has achieved smash ratings on UppTV Cable. Despite the show's success, Beeboy still makes his family and neighborhood his top priority.
Card Artwork
LV 5.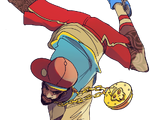 Full Artwork
Useful links