Background
To command a crew like the Piranas, a healthy dose of authority, insight, patience and, as an optional extra, humor is required. But perhaps the most important thing needed to ensure the hotheads know you mean business is a well-sharpened sword and an unforgiving smile.
Webcomic
Bloodh has a one-panel appearance (4th level form) in the second issue of Lucha Libre in Clint City where he's wondering who the mysterious man that beat up three of his minions is (Lizbeth, Pesth and Raeth). His speech is a lot like a stereotypical pirate.
In "The Reunion" he now runs his tavern with a no pillz policy, but it doesn't stop Maana Cercei from secretly starting a bar fight where he's only annoyed.
Missions
Bloodh's Heir: Win 1,000 fights with at least 2 Piranas.
Advantages & Disadvantages
Advantages:
His base power is 7, which is good for a 5*.
His base damage is 6, which is also good.
His ability gives you an extra three life back if you win with him.
His ability helps to strengthen the gap between both you and your opponent.
His ability also makes him a good bluff against your opponent.
The clan bonus cancels out an opposing card's bonus, which makes fights easier.
Disadvantages:
SoA removes his ability, which diminishes his value a bit.
He is a 5*, so he takes up a lot of room in your deck.
He has competition from the other 5* in Piranas. 
Trivia
Bloodh's name is taken from the famous literary pirate captain, Captian Blood.
His transformation into a skeleton could be a reference to the plot of the film, Pirates of The Caribbean: The Curse of the Black Pearl.
The reason for his departure is that he eventually grew tired of keeping his crew in line, and decided to retire to the northern part of Clint City, where he plans to set up a rum distillery. He left the Piranas in the hands of his friends, Krook.
Card Artwork
Full Artwork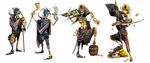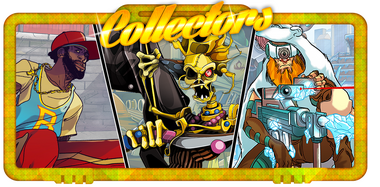 Community content is available under
CC-BY-SA
unless otherwise noted.