Background
Born under the sign of Pisces with Aquarius rising, Bubbles has always loved water in all its forms. Pure, powerful and all-pervading in the city, water has become a symbol for Bubbles' quest for perfection and he also knows how to use it as a weapon, should the need arise…
Web comic
This card hasn't appeared in a web comic yet.
Missions
Saddy Smash II: Gain 50 pillz with Bubbles (16 May 2016 - 17 June 2016)
Advantages and Disadvantages of the card
Advantages:
His base damage is 6, which is good for a 4*.
His ability gives you 1 out of 2 pillz back if you lose with him.
He makes a good bluff against your opponent, since they won't know whether you plan to attack or get pillz back.
He works well with Shann Cr, whose ability also gives you pillz back.
The clan bonus increases his power by two, making him a potential 8/6.
Disadvantages:
His base power is 6, which is low for a 4*.
His ability only works if you lose with him, meaning you must take damage.
SoA takes his ability away, which lessens his value.
SoB weakens him, since it keeps his base power at 6.
He is especially weak against all-stops, since he can't increase his power and can't get pillz back.
He is a 4*, so he takes up room in your deck.
He has competition from the other 4* in Bangers.
Trivia
Bubbles' name is that same as the mixture of air and liquid that is often found in water.
The signs mentioned in his bio (Pisces and Aquarius) are associated with water.
Many fans believe he should have been in the Ulu Watu, instead of the Bangers, due to his love of water.
His fighting style might be a reference to Waterbending from Avatar: The Last Airbender.
Card Artwork
LV 4.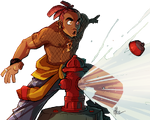 Full Artwork
Useful links