Background
Burdock has just spent many a long month amongst the Junta on a secret mission to master their most up-to-the-minute fighting techniques and arms control. Now back with the Roots, he's using this new-found expertise to perfect his flower canon, a formidable weapon that fires joy and happiness onto all those it targets..
Missions
Advantages & Disadvantages
Advantages:
Disadvantages:
Trivia
Card Artwork
LV 4.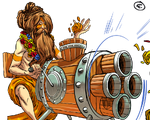 Full Artwork
Community content is available under
CC-BY-SA
unless otherwise noted.