Clan
Skeelz
Bonus
Protection: Ability
Ability
Protection: Damage
Rarity
Rare
Released
September 9, 2011
Artist
Ples001
Stars
4
Stats lv 1
2/1
Stats lv 2
3/2
Stats lv 3
5/4
Stats lv 4
7/6 (Ability activated)
Background
Carter's adolescence got off to a flying start. He was captain of the school football team and a hit with both the boys and the girls! But when he realized his skin could assume the toughness of any material he touched, he knew he'd be better off joining the Skeelz Academy. And he doesn't regret it one bit, except that is when he has to take Anton's math tests...
Missions
As Hard as Steel: Inflict 150 Damages with Carter
Advantages and Disadvantages
Advantages
His power is 7, which is good for a 4*.
He has 6 damage, which becomes 8 with fury, allowing him to 2HKO with some of the other members of Skeelz.
His ability prevents his damage from being reduced by opposing cards, which helps when facing the Pussycats, and especially heavy damage reducers.
Because of his bonus, his ability stays activated, unless he is facing an all stop.
Disadvantages
His ability doesn't protect him against clans that reduce his attack or his power.
He has a lot of competition from the other 4*s in Skeelz.
He is a 4*, so he takes up a bit of room in your deck.
Trivia
Carter could be a nod to Kevin from Ben 10: Alien Force, who is also a teenager with the same powers.
Carter's skin in his final level bares a resemblance to superhero, Colossus.
A number of fans have debated about Carter being bisexual given the line about him being a hit with both sexes.
He is the only student in the Nature Studies class whose power hasn't got anything to do with plants, animals or Forces of Nature.
Concept Artwork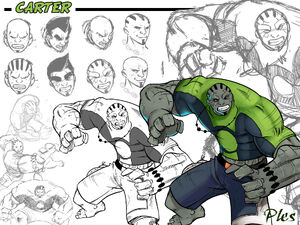 Card Artwork
LV 4.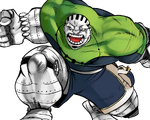 Full Artwork