<format> Sentinel</format>
       </data>
       <data source="ability">
           <label> Ability</label>
           <default>Unknown</default>
       </data>
       <data source="bonus">
           <label> Bonus</label>
           <default>+8 Attack</default>
       </data>
       <data source="rarity">
           <label>Rarity</label>
           <default>Unknown</default>
           <format>Uncommon</format>
       </data>
       <data source="gender">
           <label>Gender</label>
           <default>Unknown</default>
           <format> Male</format>
       </data>
   </group>
   <group>
       <header>4 Stars (

★★★★

)</header>
       <data source="level1">
           <label>Stats Lv 1</label>
           <format> 3  1 </format>
       </data>
       <data source="level2">
           <label>Stats Lv 2</label>
           <format> 3  3 </format>
       </data>
       <data source="level3">
           <label>Stats Lv 3</label>
           <format> 6  3 </format>
       </data>
       <data source="level4">
           <label>Stats Lv 4</label>
           <format> 8  3 (Gains Ability)</format>
       </data>
       <data source="level5">
           <label>Stats Lv 5</label>
           <format>    </format>
       </data>
   </group>
   <group>
       <header>Meta Info</header>
       <data source="released">
           <label>Released</label>
           <default>Unknown</default>
       </data>
       <data source="retired">
           <label>Retired</label>
       </data>
       <data source="artist">
           <label>Artist</label>
           <default>Unknown</default>
       </data>
   </group>

</infobox>
Background
He's been patrolling with Dayton for five years now and for five years he's had to "physically" intervene, practically on a daily basis, to get his puny partner out of some kind of scrape or other. The worst is when Dayton wants to eat at Borgia's Palace. Coby only usually just has time to bite into his Montana Burger before he has to start throwing his weight around.
Missions
Attack On Crime: Inflict 300 damages with Coby
Webcomic
Coby and Dayton first started appearing as supporting characters from the B-Team arc. He is being portrayed as an overweight man that barely can fit into the back of a squad car and kind of a goof (along with his partner, Dayton). The two got a much bigger role in "Pillz Hunt" where they have to get some pillz needed to revive their boss from his coma.
Advantages & Disadvantages
Advantages:
His base power is 8, which is good for a 4*.
His ability increases his damage for every member of Sentinel in your hand, meaning he may gain up to four damage, which would make him a potential 8/7.
If you fury with him while his ability is activated, his damage increases further, making him a potential 8/9.
He gains his ability at level three, so he is useful then.
His ability also makes him a good bluff against your opponent, due to how high his damage will become.
The clan bonus increases his attack by 8, which helps in low-pill fights.
Disadvantages:
His base damage is 3, which is very low for a 4*.
He is weak against SoA, since he loses his damage and must stick with his low base damage.
His main weakness are cards like: Yookie, Yayoi Cr, and Bristone, who not only cancel his ability, but also reduce his damage.
He has competition from the other 4* in Sentinel.
He is 4*, so he takes up room in your deck.
Trivia
Coby and Dayton (who were released on the same day) are a take-off on the Lethal Weapon series, given that both have a pair of miss-matched, interracial cops who are partners. Just like Detective Roger Murtaugh, Coby is the older, long-suffering one that has to get his more impulsive partner out of trouble.
Card Artwork
LV 4.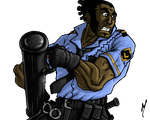 Full Artwork