Background
If war were a sport, Dacote would be a quadruple Olympic champion by now. Even the Junta get tired of his constant desire to be in training for the next battle. So to get some peace and quiet, Bryan regularly sends him on reconnaissance missions in the sewers, armed with a faulty walkie talkie and a dodgy compass just so he doesn't come back too quickly!
Advantages & Disadvantages
Advantages:
His base damage is 6, which is good.
His ability gives him 4 damage, if his ability is cancelled, which makes him a good card to use against GHEIST and Roots.
The clan bonus increases his damage by two, making him a potential 6/8.
If both his ability and bonus are activated, he becomes a 6/12, which allows you to inflict a 1HKO on your opponent.
His ability also makes him a good bluff, since your opponent won't know whether you are planning to KO them or not.
He doesn't need fury to help him deliver a KO, so you can save pillz.
Disadvantages:
His base power is 6, which isn't that good for a 4*.
His ability only works if it has been cancelled by an opposing card.
He is 4*, so he takes up room in your deck.
He has competition from the other 4* in La Junta.
Trivia
He's named after Buddy Dacote, a character in the video game, Doom 3.
He is the only character, so far, that can deliver a 1HKO in ELO's new dueling format (provided both his ability and bonus are activated, and you fury with him).
Card Artwork
LV 4.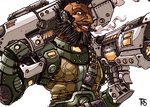 Full Artwork
LV 4.