Background
Spellbound by jewels, Dalhia quickly realized that the best way to satisfy her all- consuming love of gold and diamonds was to join the Piranas. When the beautiful brunette sniffs out jewelry, you'd be very wise not to stand in her way.
Advantages & Disadvantages
Advantages:
She has a good 8 power.
She also has a good 5 damage.
Her ability removes 3 pillz from your opponent after you win with her.
Her bonus stops the opponent's bonus, which can really come in handy.
Disadvantages:
She must be used in either the first or second round due to her ability's minimum of 4.
She's a 5 star so she takes up a lot of room in your deck.
Trivia
Dalhia's name is a reference to the Black Dahlia murder.
The reason she left is that she wasn't elected leader of the Piranas, so she went to start her own clan outside of Clint City along with her first recruit, Chiara.
Card Artwork
LV 2.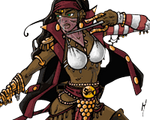 LV 3.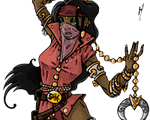 LV4.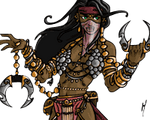 LV 5.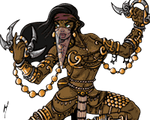 Full Artwork

Community content is available under
CC-BY-SA
unless otherwise noted.