Background
In life, what matters most is to find one's true calling. Dallas started off doing traditional weight throwing but even though he threw heavier and heavier missiles, he was never really satisfied. But then one day, something clicked and ever since he's been throwing the heaviest and most improbable objects he can find, which makes him an extremely useful weapon in the All Stars' fights!
Web comic
This card hasn't appeared in a web comic yet.
Missions
None at the moment.
Advantages and Disadvantages of the card
Advantages:
He has 7 power, which is quite good for a 5* in the All-Stars.
He has 6 damage, which is good for a 5*.
When he wins, he recovers 2 life.
His All-Star bonus reduces an opponent's power by 2, making his fights much easier.
Disadvantages:
He is a 5* and can be hard to fit in a T1 deck.
He is rare and can be hard to get in Packs.
Trivia
The gold statue that is shown in the background in the All-Stars stadium, could be of Dallas.
Card Artwork
LV 5.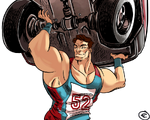 Full Artwork
Useful links
Community content is available under
CC-BY-SA
unless otherwise noted.