Background
Damian is a kind of pain magnet. Due to no fault of his own, he receives and stocks up the pain and suffering of all those around him and, if he chooses to, he can even pass it on to others. Fortunately for him, the city is full of undesirables on whom he can regularly liquidate his stock...
Advantages and Disadvantages
Advantages:
His power is 8, which is good for a 4*.
His ability allows him to copy an opponent's damage, meaning his damage can go all the way to 8, allowing you to 2HKO with some of the other members of Skeelz.
Because of his power, he can make a very good bluff against your opponent.
His bonus ensures his ability stays activated, as long as he isn't facing an all stop.
Disadvantages:
He is a 4*, so he takes up a bit of room in your deck.
There is a chance his damage may be reduced if he is facing a card with low damage.
He has competition from the other 4* in Skeelz.
His ability can make him predictable, at times.
His clanmate, Otto, has the same ability, but is only a 2*.
Trivia
His powers are similar to the character, Elva, from the Inheritance Cycle book series.
Card Artwork
LV 4.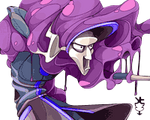 Full Artwork
External links
Community content is available under
CC-BY-SA
unless otherwise noted.