Background
With no family ties to the Montana clan, Donnie's worked hard to get where he is today in the organization. This slow and difficult ascent, fraught with pitfalls and hard knocks, has made him very sensitive (not to mention suspicious). So now, more than ever, you'd be very wise not to get on the wrong side of him…
Advantages & Disadvantages
Advantages:
His base power is 7, which is good for a 4*.
His base damage is 5, but becomes 7 when you fury with him, allowing you to 2HKO with some of the other members of Montana.
His ability removes two life from your opponent after you've won with him.
The minimum for his ability is one, which is very low.
If you combine his damage with his ability, you can inflict up to 7 damage on your opponent. The damage increases to 9, if you fury with him.
His ability makes him a good bluff, since your opponent won't know whether you are trying to attack or not.
He isn't really bothered by SoA, since he still can rely on his stats and his bonus.
The clan bonus removes 12 attack from your opponent, which helps a lot in low-pill fights.
Disadvantages:
His base damage is 5, which isn't very good for a 4*.
His ability is Revenge, meaning you must take damage for it to activate.
His ability, at times, makes him predictable, since your opponent will know that you are planning to use him after they've won the last round.
He is a 4*, so he takes up a bit of room in your deck.
He has competition from the other 4* in Montana.
Strategy
Use him after losing with a good damage reducer like Spiaghi Cr or a low star Defeat ability card, such as Waller.
Trivia
Donnie's name could come from the famous Mafia snitch, Donnie Brasco.
In his second artwork, the bank bag he carries shows the US dollar sign instead of the the Clintz symbol (This is similar to Avola).
His bio bares some similarities to Tony Montana's from the film, Scarface.
Card Artwork
LV 4.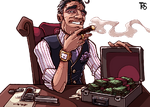 Full Artwork
LV 4.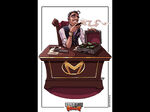 Useful links
Community content is available under
CC-BY-SA
unless otherwise noted.