Background
Blood... blood is what drives Dr Saw. He spends his nights dissecting his victims' bodies and his days as a doctor in the Clint City Hospital. But with potential prey becoming increasingly rare, he decides to join GHEIST to benefit from the services of Lilith and Methane.
Webcomic
This card hasn't appeared in an Urban Rivals web comic yet.
Missions
None at the moment.
Trivia
Advantages and Disadvantages of the card
Advantages:
Disadvantages:
Tactics
Card Artwork
LV 4.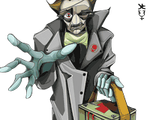 Full Artwork
Useful links
Community content is available under
CC-BY-SA
unless otherwise noted.