Background
A veteran who hasn't sacrificed a few bits of himself to a war is no veteran. And Dugan certainly took part in his fair share of wars before joining La Junta and had to wave goodbye to several pounds of flesh in the process. But fortunately for him, Masamu has put in some extra hours to turn him into a regular fighting machine and so now he's off for yet another round!
Advantages & Disadvantages
Advantages:
His base power is 7, which is good for a 5*.
His base damage is also 7, which is good.
His ability removes 5 damage from your opponent, which helps in you are in case of being KO'ed.
Because of his stats and ability, he helps to play mind games on your opponent.
The clan bonus increases his damage by two, making him a potential 7/9.
If you fury with him while his bonus is active, he becomes a potential 7/11.
Disadvantages:
The minimum for his ability is 4, which is high.
He is a 5*, so he takes up a lot of room in your deck.
He has competition from the other 5* in La Junta.
Trivia
Vanoxymore himself claims that Dugan's appearance (especially at the first level) is a nod to Sheriff Rao of the manga, Sand Land.
His fourth level appearance, his gun-leg is a nod to what happened to Cherry Darling from the film, Planet Terror.
His name is a nod to Dum Dum Dugan, a Marvel comic book character and S.H.I.E.L.D. officer.
Card Artwork
LV 5.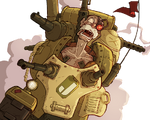 Full Artwork