Background
Working for the Skeelz School carries with it a certain number of risks, like for example seeing your DNA combined with the Yeti of the Northern Mountains after an unfortunate accident during a zoology class. Fortunately, Dwan knows she can count on the support of all the Skeelz...
Involvement
Strategy
Quotes
Advantages and Disadvantages
Advantages:
Her power is a 7, which is good for a 5*.
Her ability reduces an opponent's damage by 4.
The minimum for her damage reduction is 1, which is very low.
Her damage is 6, and becomes 8 with fury activated, allowing you to 2HKO with some of the other members of Skeelz.
Because of her ability and her power, she makes a very good bluff.
Because of her bonus, she doesn't have to worry about losing her ability, unless she is facing an all stop.
Disadvantages:
She is a 5*, which takes a lot of room in your deck.
Redra is similar, and almost as good at a fraction of the star cost, making her 2nd in most Skeelz decks.
She has a lot of competition from the other 5* in Skeelz.
Trivia
If she were a student, Dwan would most likely be in the Nature class, since her accident took place in a nature-related environment.
She could be a possible nod to The Beast from the X-Men comics.
Her 4th level pose is similar to the 4th level pose of Ozzy.
Her name is pronounced, "Dawn" but with an accent. However the name 'Dawn' was later used over four years later by a Junkz member of the same spelling.
Card Artwork
LV 5.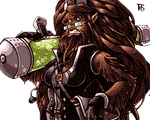 Full Artwork
External links