Background
Don's little cousin, Edd, is known throughout town as the black market expert. Whatever you're after, if it exists, he'll sell it to you, and if it doesn't exist, he'll sell it to you anyway, but at a higher price. But be warned, if you don't have any cash on you, you might just walk away with one less kneecap.
Advantages & Disadvantages
Advantages:
His base power is 7, which is good for a 4*.
His ability cancels out an opposing card's bonus, which makes fights with him a lot easier.
If you fury with him, his damage increase to 7, allowing you 2HKO with some of the other members of Montana.
He's not really bothered by SoA, since he can still rely on his bonus.
The clan bonus removes 12 attack from your opponent, which helps in low-pill fights.
Disadvantages:
His ability is Courage, meaning you only have two chances to activate it in a battle.
His base damage is 5, which isn't very good for a 4*.
He is very difficult to get and also very expensive.
He has competition from the other 4* in the Montana.
Webcomic
Edd appears in his third level form, and for a while, only made minor speaking cameos and told Zlatar off when he tried to extort money from them in return that their new police bots will ease off on him. He had a much bigger role and an attempt to show his romantic side in "Montana Day Afternoon" where after a spat with his wife, Sharon, he had hired Enzo to pick up a fancy necklace and closed down the restaurant part of Borgia's so they could have romantic dinner.
Trivia
His artwork is based off of Tony Soprano, the main character from the popular TV series, The Sopranos.
He is the first male Cr of the Montana.
He left Clint City to expand his black market franchises.
Card Artwork
LV 3.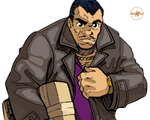 LV 4.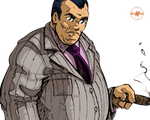 Full Artwork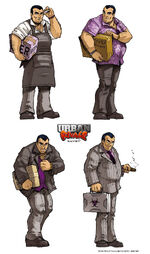 Community content is available under
CC-BY-SA
unless otherwise noted.