Background
Fired from the Poldachie-Golgovine army because of his wildly dangerous experiments, he was recruited by the General who figured it was better to have him on his side than against him. And who knows, maybe one day he might actually come up with a really good weapon - one that won't even blow up in his face!
Missions
Ballistic Missile: Win 70 rounds with Emeth
Advantages & Disadvantages
Advantages:
His base power is 7, which is good for a 5*.
His base damage is 6, which is also good.
His ability increases his attack by five, for every member of La Junta in your hand, meaning he could have an attack of up to 20.
His ability helps tremendously in low-pill fights.
The clan bonus increases his damage by two, making him a potential 7/8.
His ability, bonus and stats make him an excellent bluff against your opponent.
SoA doesn't really affect him, since his base power is high.
Disadvantages:
Because he is a Collector, the price for him is very high.
He is almost always ELO-banned.
He is a 5*, so he takes up a lot of room in your deck.
He has competition from the other 5* in La Junta.
Trivia
Emeth is a take-off on mad scientist character, Emmett "Doc" Brown, of the Back to the Future movies.
When he went collector, the storyline mentioned that he had mysteriously disappeared around the same time as Kalindra Cr.
Card Artwork
LV 5.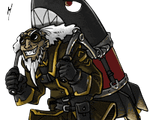 Full Artwork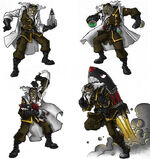 External links