Clan
Sakrohm
Bonus
-8 Opp. Attack, Min. 3
Ability
Courage: +2 Life
Rarity
Rare
Artist
Emmanuel Bouley
Released
November 7th, 2008
Stars
5
Stats lv 2
4/4
Stats lv 3
5/4
Stats lv 4
5/6
Stats lv 5 (ability activated)
7/7
Background
It's hardly rocket science: the Glibon Dashra Sarkrh is the source of all things and his word must be listened to by all. When she comes across idiots who refuse to listen or worse still, who listen but fail to understand, Eris can hardly contain herself. But fortunately in his infinite wisdom, the Glibon Dashra Sarkrh condones violence as a valid form of conversion, which means there's no need to hold back.
Missions
Advantages & Disadvantages
Advantages:
Her base power is 7, which is good for a 5*.
Her base damage is also 7, which is good.
Her ability gives you two life back, after you win with her.
Her ability and stats make her a good bluff.
The clan bonus removes eight attack from your opponent, which helps in low-pill fights.
Disadvantages:
Her ability is Courage, meaning you only have two chances to activate it. It also makes her predictable.
SoA takes away her chance to increase your life.
SoB removes her bonus, so she cannot reduce her opponent's attack.
She is a 5*, so she takes up a lot of room in your deck.
She has competition from the other 5* in Sakrohm.
Trivia
Card Artwork
LV 5.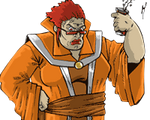 Full Artwork
Community content is available under
CC-BY-SA
unless otherwise noted.