Background
Lost in the forest on a school trip, Eve grew up with the snakes while everyone assumed she was dead. After 15 years of living with her friends the snakes, she decided to return to civilization. Boris, who'd already heard of her, recruited her and ever since she's been making the serpents dance every night, much to the audience's delight.
Web comic
This card hasn't appeared in a web comic yet.
Missions
None at the moment.
Trivia
Advantages and Disadvantages of the card
Advantages:
Disadvantages:
Tactics
Card Artwork
LV 5.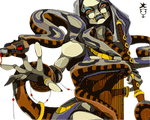 Full Artwork
Useful links
Community content is available under
CC-BY-SA
unless otherwise noted.