Background
Raised in the ghetto of Clint City, Eyrton soon learned how to get the best from whatever materials were available. Fascinated by mechanics, at the age of 11 Eyrton was the youngest smuggler of spare parts in the city and more importantly, its most famous mechanic. Star of the underground motor races, he quickly mastered every single track in the City and finally took the lead of the All Stars.
Web comic
Eyrton has a small role in "Showdown At the Rodeo" where he explains his disgust over Jessie and Enzo's relationship while talking with Linda and Maciej (who are looking for Jessie). This could hint that he also has feelings for his clanmate, but this is not specified.
Missions
Eyrton's Heir: Win 1,000 fights with at least 2 All Stars.
Advantages and Disadvantages of the card
Advantages:
His base power is 8, which is good for a 5*.
He has no ability, so he is not bothered by SOA.
Because of his high base power, he is also not bothered by SOB.
The clan bonus removes two power from your opponent, with a low minimum of one.
He is a common, so he is easy to obtain in packs.
He is also quite cheap.
Disadvantages:
His base damage is 5, which isn't that high.
He doesn't have an ability to aid him in fights.
He is a 5*, so he takes up room in your decks.
He has competition from the other 5* in All-Stars.
Strategy
Trivia
Eyrton is named after Ayrton Senna, a Brazilian F1 driver. Ayrton started racing karts at the age of 4. After participating in the Formula 1600 and Formula 2000, he won the British F3 championship in 1983.
He is the only clan leader without an ability.
His CR announcement goes as: "Hoping to open up the All Stars' league to more extreme sports, Eyrton is on the lookout for talent at the Skeelz Academy. A few students such as Corvus and Sandro approach him, curious about putting their psychic abilities to good use! But suddenly, Hemdall, the gatekeeper, decides to take these three characters through a hazy portal to save them from the bomb that's dropped on the academy's playground…
Card Artwork
LV 5.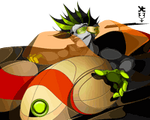 Full Artwork
Useful links
Community content is available under
CC-BY-SA
unless otherwise noted.