Background
When he met Vermyn N, Fifty was a young drifter, making a living by selling back contrabands pillz on the streets of Clint City. Impressed by his tattoo and vocals cords, Vermyn N convinced him to join the Bangers and start playing Music. Since then, Fifty feels much better, even if sometimes, his passion for guns freaks out the others Bangers a bit.
Web comic
This card hasn't appeared in a web comic yet.
Missions
Mutual respect: Win 20 fights by finishing with a knock-out from Fifty. (10/12/2010 - 09/01/2011)
Advantages and Disadvantages of the card
Advantages:
Disadvantages:
Tactics
Trivia
Fifty is a take-off on famous rapper, 50 Cent.
On the fourth level, the word on his left arm is star.
Card Artwork
LV 5.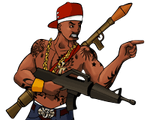 Full Artwork
Useful links.