<format> Junkz</format>
       </data>
       <data source="ability">
           <label> Ability</label>
           <default>Unknown</default>
       </data>
       <data source="bonus">
           <label> Bonus</label>
           <default>Attack +8</default>
       </data>
       <data source="rarity">
           <label>Rarity</label>
           <default>Unknown</default>
           <format>Rare</format>
       </data>
       <data source="gender">
           <label>Gender</label>
           <default>Unknown</default>
           <format> Male</format>
       </data>
   </group>
   <group>
       <header>5 Stars (

★★★★★

)</header>
       <data source="level1">
           <label>Stats Lv 1</label>
           <format>    </format>
       </data>
       <data source="level2">
           <label>Stats Lv 2</label>
           <format> 2  4 </format>
       </data>
       <data source="level3">
           <label>Stats Lv 3</label>
           <format> 4  4 </format>
       </data>
       <data source="level4">
           <label>Stats Lv 4</label>
           <format> 6  5 </format>
       </data>
       <data source="level5">
           <label>Stats Lv 5</label>
           <format> 6  8 (Gains Ability)</format>
       </data>
   </group>
   <group>
       <header>Meta Info</header>
       <data source="released">
           <label>Released</label>
           <default>Unknown</default>
       </data>
       <data source="retired">
           <label>Retired</label>
       </data>
       <data source="artist">
           <label>Artist</label>
           <default>Unknown</default>
       </data>
   </group>

</infobox>
Background
All that tinkering around with dodgy equipment was bound to end badly. One evening, while working in his workshop on a blown out, old speaker, Fuzz got the kind of electric shock that could plunge half a city into darkness. However, not only did he recover, he's now addicted to electricity!
Webcomics
If you pay attention, you can see Fuzz's face at the beginning of The Pillz Hunt comic.
Missions
Electric Injection: Inflict 500 damage with Fuzz
Advantages & Disadvantages
Advantages:
Disadvantages:
Trivia
His back story might be based on the main plot of the movie, "Crank: High Voltage" where the protagonist became addicted to raw electricity after receiving a heart transplant, that requires him to be electrically charged frequently or he'll die.
His name probably comes from the word "fizz", because you can see the electricity fizzing near him.
His appearance in his Level 4 form is based off of Beat, a main character from the Jet Set Radio series.
Card Artwork
LV 5.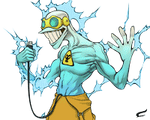 Full Artwork
LV 5.