Background
Born in a backwater in the middle of nowhere, Gatline learnt how to shoot before she could walk. Yet, it wasn't until she was around 18 years of age that she actually got to grips with aiming… So since then, to avoid having to be too good a shot, she prefers weapons that pretty much blow the target to smithereens.
Advantages & Disadvantages
Advantages:
Her base power is 7, which is good for a 4*.
Her ability increases her attack by 8, which helps in low-pill fights.
Her ability makes her a good bluff to use against your opponent.
The clan bonus increases her damage by two, making her a potential 7/7.
If you fury with her while her bonus is activated, her damage increases to 9.
Disadvantages:
She is weak against SoB, since she cannot increases her damage.
SoA cancels her ability, which lowers her value a bit.
She is a 4*, so she takes up room in your deck.
She has competition from the other 4* in La Junta.
Trivia
Gatline's name comes from the gatling gun, which was invented by Dr. Richard J. Gatling who was also born in a backwater town much like Gatline herself.
Her design could be a nod to the Stranger from Oddworld.
Card Artwork
LV 4.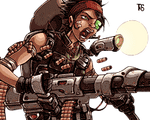 Full Artwork
LV 4.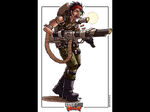 External links