<format> Rescue</format>
       </data>
       <data source="ability">
           <label> Ability</label>
           <default>Unknown</default>
       </data>
       <data source="bonus">
           <label> Bonus</label>
           <default>Support: Attack +3</default>
       </data>
       <data source="rarity">
           <label>Rarity</label>
           <default>Unknown</default>
           <format>Common</format>
       </data>
       <data source="gender">
           <label>Gender</label>
           <default>Unknown</default>
           <format> Male</format>
       </data>
   </group>
   <group>
       <header>4 Stars (

★★★★

)</header>
       <data source="level1">
           <label>Stats Lv 1</label>
           <format> 2  3 </format>
       </data>
       <data source="level2">
           <label>Stats Lv 2</label>
           <format> 2  5 </format>
       </data>
       <data source="level3">
           <label>Stats Lv 3</label>
           <format> 3  6 </format>
       </data>
       <data source="level4">
           <label>Stats Lv 4</label>
           <format> 6  7 </format>
       </data>
       <data source="level5">
           <label>Stats Lv 5</label>
           <format>    </format>
       </data>
   </group>
   <group>
       <header>Meta Info</header>
       <data source="released">
           <label>Released</label>
           <default>Unknown</default>
       </data>
       <data source="retired">
           <label>Retired</label>
       </data>
       <data source="artist">
           <label>Artist</label>
           <default>Unknown</default>
       </data>
   </group>

</infobox>
Background
Calm and gentle Ghoub is in charge of checking in the injured to the Emergency Room of the Rescue Hospital. This veritable force of nature has the ability to stay calm and understanding in any situation, but be warned, if you make a move on his sandwich, you've only got yourself to blame...
Missions
Uncontrollable Anger: Inflict 500 damage with Ghoub.
Advantages & Disadvantages
Advantages:
Disadvantages:
Quotes
Trivia
His final form slightly resembles Coop, the main protagonist of the Megas XLR series. Both their names also sound pretty similar.
Card Artwork
LV 4.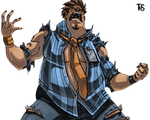 Full Artwork
LV 4.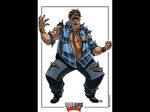 External links