Background
Flirtatious, temperamental and lazy, Goldie doesn't have any of the qualities of a good pirate, but she does have something that any pirate ship worth its salt requires: a map of the most awesome treasure of all time and the key to unlock the secret cave in which it's hidden. Because of this, Bloodh is more than happy to put up with her mood swings.
Advantages & Disadvantages
Advantages:
Her damage is 4, which can become 6 with fury allowing for a 2HKO.
Her ability reduces her opponent's attack by 8, with a low min of 2.
Her bonus stops her opponent's bonus, which can be helpful.
Disadvantages:
Her power if 5 which is low.
She's very weak without her ability.
Trivia
She is based off of Tina Majorino who played the character Enola in the movie, Waterworld. Like Goldie, Enola also has a map tattooed on her body and because of this, is wanted by the pirates in the movie.
Card Artwork
Full Artwork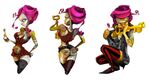 External links
Community content is available under
CC-BY-SA
unless otherwise noted.