Background
There just isn't room in Clint City for two idols of the crowds. Or at least that's what Sigmund Cr thinks, feeling that DJ Korr Cr has been putting him in the shade for far too long now!! So with his four extra arms and nuclear exoskeleton in reinforced Sigmetallum, Gork is the perfect agent to eliminate the insufferable Junkz member!
Webcomic
He has a small role in 50 Shades of GHEIST in his fourth level form where he, Methane and Ludmilla start a fight at the Hellfire Club to draw in Lois Ld, Once she takes the bait, they bring in their latest member, ARN 2000, who starts thrashing her until Vixen Cr cuts the source of ARN 2000's power and the two Pussycats make short work of the other GHEIST members.
Missions
Death to the DJ: Inflict 250 Damages with Gork
Advantages and Disadvantages of the card
Advantages:
His power is 7, which is good for a 5*.
His damage is 8, and becomes 10 when you fury with him, allowing you to 2HKO with some of the other members of GHEIST.
He is good to have when you are facing GHEIST or Roots, because his ability is canceled. Also, his high raw stats makes him look really tough for this matchup (compared to other GHEIST 5*).
Disadvantages:
His main weakness is his ability, because after you win with him, you lose two lives each turn, until the minimum is reached.
The minimum for his ability is low, which is bad in this case.
He has a lot of competition with the other 5* in GHEIST.
He is a 5*, so he takes up a lot of room in your deck.
Tactics
A good tactic to use when playing with him is to wait until the 4rd round, because his ability won't activate since the fight will be over.
Trivia
His artwork is based off of the Marvel villain, Doctor Octopus.
Gork is the first non-Berzerk member to have the Backlash ability.
Concept scetches
He is the only character, so far, to have the Backlash: Poison X, Min. Y ability in UR.

But it was eventually changed to Infection after the release of Nega D Ld.
Card Artwork
LV 5.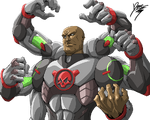 Full Artwork
LV 5.
Useful Links
Community content is available under
CC-BY-SA
unless otherwise noted.