Background
Extremely disappointed that the Jungo didn't make him their Leader (although they of all people should know the lion is the king of the jungle...), Greow is plunged into despair before finally finding his calling: the Rock. What could be better to vent his anger and frustration than to hurl a rock with all his might and main while cheered on by his frenzied fans.
Webcomic
He and his band do a gig in the Hellfire Club in the comic, 50 Shades of Gheist. Since he's in the shadows, it's hard to tell what level he's at.
Trivia
Greow is based off of James Hetfield of Metallica, who, in his early days, played as the Cowardly Lion on the Wizard of Oz.
Card Artwork
LV 1.
LV 4.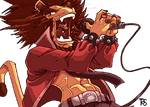 Full Artwork
LV 4.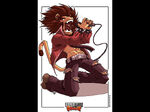 Community content is available under
CC-BY-SA
unless otherwise noted.