Clan
Pussycats
Bonus
-2 opp damage, min 1
Ability
None
Rarity
Rebirth
Artist
Team Chman, Awkad
Released
June 6, 2016
Stars
3
Stats lv 1
7/1
Stats lv 2
7/2
Stats lv 3
7/3
Background
Ever since she was a little girl, Gwen has looked up to the purr-fect Pussycats. A self-conscious teenager, she runs away from home to make her dream of joining the clan come true. She hopes to one day become the sex symbol she never was at school. Determined to fight for XX power, she does her best to support her new family.
Missions
Advantages & Disadvantages
Advantages:
Disadvantages:
Trivia
Fan Art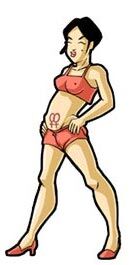 Card Artwork
Full Artwork
Community content is available under
CC-BY-SA
unless otherwise noted.