Background
Hilly Billy the gardener is the oldest employee of the Red One Motel and therefore the potential source of all their secrets. Unfortunately he only speaks a foreign language, the indecipherable sounds of which have become even more incomprehensible since the release of the Xantiax gas. Already moody, he's now a full-on crazy guy, so be very sure not to go treading on his lawn!
Web comic
This card hasn't appeared in a web comic yet.
Missions
Accursed Lawn: Remove 50 Life points from your opponents with Hilly Billy
Advantages and Disadvantages
Advantages:
His base power is 7, which is good for a 5*.
His base damage is 5, but becomes 7 with fury.
His ability removes up to 5 life from your opponent after you win with him.
If you combine his damage with his ability and bonus, you can remove up to 10 life from your opponent.
He is good when going up against damage reducers, since he can rely on his ability and bonus.
Disadvantages:
He is a 5*, so he takes up room in your deck.
He has competition from the other 5* in Berzerk.
His damage is wasted on his ability.
He is not good against cards with SOA, since they take away his chance to inflict high damage on your opponent.
Tactics
A good strategy is to have him go up against a damage reducer, so you can get the most out of his ability and bonus.
Trivia
Hilly Billy's name is a play off the word, hillbilly.
He is possibly based off of Groundskeeper Willy from the popular TV show, The Simpsons.
In his last level artwork, it shows him with a chainsaw tied to his right arm. This is a reference to the Evil Dead series where the main character, Ash, also has a chainsaw tied to his arm since he had to cut his hand off. It could also be a reference to the popular horror movie, Texas Chainsaw Massacre, where one hillbilly carries around a chainsaw.
Card Artwork
LV 5.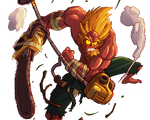 Full Artwork
LV 5.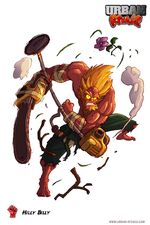 Useful links
Community content is available under
CC-BY-SA
unless otherwise noted.