Background
One day, while out for a drink, Hopper Ld (whose real name we'll keep to ourselves...) met Bragh and it was love at first sight. It's not that he's particularly good-looking but the combination of virile man + cool motorbike + soft fur coat was just too much to resist! And ever since they've been burning rubber together and no one can stop them going wherever they like.
Missions
The Girl Who Rode Route 66: Remove 50 Life points from your opponents with Hopper Ld (15/02/2013 - 14/04/2013)
Advantages & Disadvantages
Advantages:
Her base power is 7, which is good for a 4*.
Her ability removes two life from your opponent, meaning you can inflict up to 7 damage on your opponent.
The minimum for her ability is 1, which is very low.
If you fury with her, the damage inflicted on your opponent turns to 9.
Her ability helps when she is facing damage reducers.
The clan bonus gives you two life back, after you've won with her.
Both her ability and bonus help to make a huge gap between you and your opponent.
Disadvantages:
She is weak against SOA, since she must rely on her base damage. (However she still gains +2 life from her bonus)
Her main weakness are cards that reduce her ability and stop her ability from activating.
She is a 4*, so she takes up a bit of room in your deck.
She has competition from the other 4* in Jungo.
Trivia
Hopper's name is taken from late actor, Dennis Hopper, who stared in the famous biker movie, Easy Rider.
She is the 3rd bear (panda) Jungo to date, the other two are Chill (polar bear), and her boyfriend Bragh (grizzly bear).
One of her missions is related to the famous American highway, Route 66.
In her latest release (dated 1/3/14), a fictional highway called Route 999 is mentioned.
Every time either Hopper Ld or Sylvia Ld make a new appearance in Clint city, it mentions that their respective biker gangs (the Paradise Devils and the Fire Angels, respectively) have an intense rivalry between each other.
Until February 19, 2015, her base damage was 4.
Until June 27, 2017, her old ability was Support: +1 Life
Card Artwork
LV 4.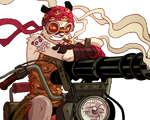 Full Artwork
Community content is available under
CC-BY-SA
unless otherwise noted.