<format> GHEIST</format>
       </data>
       <data source="ability">
           <label> Ability</label>
           <default>Unknown</default>
       </data>
       <data source="bonus">
           <label> Bonus</label>
           <default>Stop Opp. Ability</default>
       </data>
       <data source="rarity">
           <label>Rarity</label>
           <default>Unknown</default>
           <format>Rare</format>
       </data>
       <data source="gender">
           <label>Gender</label>
           <default>Unknown</default>
           <format></format>
       </data>
   </group>
   <group>
       <header>4 Stars (

★★★★

)</header>
       <data source="level1">
           <label>Stats Lv 1</label>
           <format> 4  1 </format>
       </data>
       <data source="level2">
           <label>Stats Lv 2</label>
           <format> 5  2 </format>
       </data>
       <data source="level3">
           <label>Stats Lv 3</label>
           <format> 6  4 </format>
       </data>
       <data source="level4">
           <label>Stats Lv 4</label>
           <format> 7  6 (Gains Ability)</format>
       </data>
       <data source="level5">
           <label>Stats Lv 5</label>
           <format>    </format>
       </data>
   </group>
   <group>
       <header>Meta Info</header>
       <data source="released">
           <label>Released</label>
           <default>Unknown</default>
       </data>
       <data source="retired">
           <label>Retired</label>
       </data>
       <data source="artist">
           <label>Artist</label>
           <default>Unknown</default>
       </data>
   </group>

</infobox>
Background
If we think of Igniss as the messenger, then we must see Hriger as the executioner. As a member of the Order of Theus from planet Polter and in alliance with the GHEIST, he is the one who ensures everyone's silence in the name of his master. While Igniss takes care of business between the two organizations, Hriger has been temporarily transferred to the GHEIST to destroy the secret of room 13, thus allowing the prophecy of the 5th world to come true.
Web comic
This card has not been in a Web comic yet.
Missions
Secret Agreement: Remove 15 Pillz from your opponents with Hriger.
Killer From Outer Space: Inflict 200 Damages with Hriger.
Advantages and Disadvantages
Advantages:
He has a base power of 7, which is good for a 4*.
His base damage is 6, which is also good.
His ability removes one pill from your opponent after you win with him.
The minimum for his ability is 1, which is very low.
Disadvantages:
His ability doesn't help him against attack manipulation.
He is a 4*, so he takes up room in your deck.
He has competition from the other 4* in GHEIST.
His ability doesn't work well against cards that have abilities with better pillz manipulation.
Tactics
Trivia
Hriger's name is a take-off on artist, H.R. Giger, who is known for his designs in the Alien movie series.
If you put together the name of his home planet, the name of the clan he is in, and remove the 'H' from GHEIST, you get the word, 'Poltergeist'.
A preview image was released on Facebook before his release.
Card Artwork
LV 4.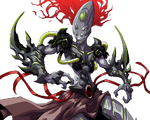 Full Artwork
Useful links