Background
Having only just arrived in town, Hula and her sister Twyh were taken on by Betty who opened the doors of the Pink Club to them, but after a dozen or so shows the two sisters were spotted by Eve who convinced Boris to hire them. Ever since, Betty has sworn to get her revenge on the Freaks and in particular on the two sisters.
Web comic
This card hasn't appeared in a web comic yet.
Missions
Delicious Poison: Win 50 rounds with Hula.
Advantages and Disadvantages of the card
Advantages:
Her power is 7, which is very good for 2*.
She is only a 2*, which helps make more room for you in your deck.
She has her ability right from the start, so she can be used at level one.
Both her ability and her bonus are the same, which helps when facing against GHEIST, Nightmare, Roots, and Piranas.
The Freaks bonus removes 2 life from your opponent after every round if you win with her.
Despite being a rare card, she is relatively cheap.
Disadvantages:
Her main weakness are all-stops, because she is only left with one damage.
She has some competition from the other 2* in Freaks.
Tactics
Trivia
Hula's name is a variation of the toy, hula hoop, that she uses in her performances.
Hula's name might also be a referance to hula dancing.
She is one of the few cards in UR who has her ability right from the start.
Card Artwork
Full Artwork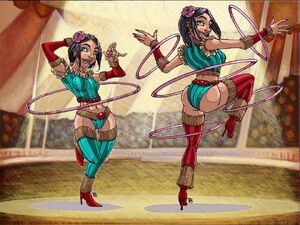 Useful links
Community content is available under
CC-BY-SA
unless otherwise noted.