Background
As a reliable yet quick-tempered goal keeper, Kang's football team decide to get rid of him as his fits of anger are starting to scare his own defenders. Tired of stopping balls, he reinvents himself as a shot putter. Throwing a ball as far as he can could very well be the making of him...
Web comic
This card hasn't appeared in a web comic yet.
Missions
Shot Put...In Your Face: Win 30 rounds with Kang (12/09/2014 - 16/11/2014)
Advantages and Disadvantages of the card
Advantages:
Disadvantages:
Trivia
Since Kang and fellow All Stars member, Liu, came out on the same week, the two characters' names might be a take off on Liu Kang, a character from Mortal Kombat.
His artwork is based off of former German soccer star and goal keeper Oliver Kahn.
Card Artwork
Full Artwork
From left to right LV1, LV2, LV3.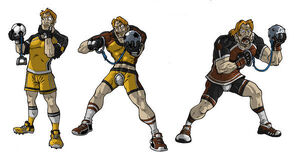 Useful links
Community content is available under
CC-BY-SA
unless otherwise noted.