<format> Fang Pi Clang</format>
       </data>
       <data source="ability">
           <label> Ability</label>
           <default>Unknown</default>
       </data>
       <data source="bonus">
           <label> Bonus</label>
           <default>Damage +2</default>
       </data>
       <data source="rarity">
           <label>Rarity</label>
           <default>Unknown</default>
           <format>Uncommon</format>
       </data>
       <data source="gender">
           <label>Gender</label>
           <default>Unknown</default>
           <format> Female</format>
       </data>
   </group>
   <group>
       <header>4 Stars (

★★★★

)</header>
       <data source="level1">
           <label>Stats Lv 1</label>
           <format> 3  2 </format>
       </data>
       <data source="level2">
           <label>Stats Lv 2</label>
           <format> 5  2 </format>
       </data>
       <data source="level3">
           <label>Stats Lv 3</label>
           <format> 6  3 </format>
       </data>
       <data source="level4">
           <label>Stats Lv 4</label>
           <format> 7  4 (Gains Ability)</format>
       </data>
       <data source="level5">
           <label>Stats Lv 5</label>
           <format>    </format>
       </data>
   </group>
   <group>
       <header>Meta Info</header>
       <data source="released">
           <label>Released</label>
           <default>Unknown</default>
       </data>
       <data source="retired">
           <label>Retired</label>
       </data>
       <data source="artist">
           <label>Artist</label>
           <default>Unknown</default>
       </data>
   </group>

</infobox>
Background
Video-game addict, Kati joined the Fang Pi to learn how to fight like her favorite characters. Thanks to Lost Hog's teachings she finally became a true master, and now she wanders the streets of Clint City, searching for a worthy opponent.
Web comic
This card hasn't appeared in a web comic yet.
Missions
None at the moment.
Advantages and Disadvantages
Advantages:
Her power is 7 which is good.
She also has a solid damage of 4.
With her bonus she gains 2 damage so she's a possible 7/6, which is good.
Her ability stops the opponent's ability, which is helpful.
Disadvantages:
Her ability is useless against GHEIST, Roots, and Skeelz.
She's a 4 star, so she takes up a bit of room in your deck.
Tactics
Trivia
Kati's cosplay outfits are based off various fighting game characters: Chun-Li (level 1), Mai (level 2), Cammy (level 3) and Ivy (level 4).

Incidentally, her level 1 form is somewhat ironic, due to the fact that Chun-Li is the first female fighting game character in the history of fighting games.

Her name is anagram of Taki from the Soulcalibur series.
Card Artwork
LV 4.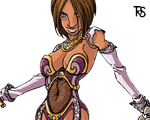 Full Artwork
LV 4.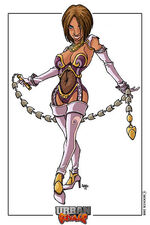 Useful links