Background
Loved by women and envied by men, this superstar knows just how to use his assets to get what he wants. Pretentious and egocentric, Kevin can't bear people standing up to him which gets him into between 5 and 10 fights a day. No one can hold a candle to him and he wants everyone to know it, even if that means getting into fights and messing up his hair in the process.
Web comic
This card hasn't appeared in a web comic yet.
Missions
None at the moment.
Trivia
Advantages and Disadvantages of the card
Advantages:
The Bangers' bonus makes him gain 2 power, which is good for inflicting his poison.
He has a poison ability.
He is very cheap.
Disadvantages:
His poison is very weak, only inflicting one damage every turn.
SoB reduces his possible power by 2.
Has competition from other 3* in Bangers.
He is weak round 4, because he cannot inflict his poison.
Tactics
Card Artwork
Full Artwork
From left to right: LV1, LV2 and LV3.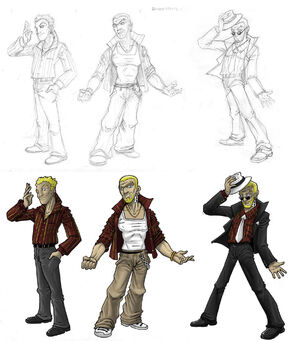 Useful links