Background
After having experienced fame at the age of 16 as a member of the group "The Big Sausages" with their hit single "I Love Sauerkraut", Polo soon realized it was going to be hard to stage a comeback in the world of rap unless he changed his name and disguised his face....
Web comic
This card hasn't appeared in a [web comic] yet.
Missions
None at the moment.
Advantages and Disadvantages of the card
Advantages:
He has 5 damage which is good for a 3*.
He has the Power + 2 Bangers bonus which makes him 7/5.
Like His clanmate Blaaster Cr he also has a Power reduction ability and will give him a high power advantage aswell as his bonus.
Disadvantages:
His base power is 5 which isn't that good.
His min is quite high.
Tactics
Card Artwork
Full Artwork
From left to right LV1, LV2 and LV3.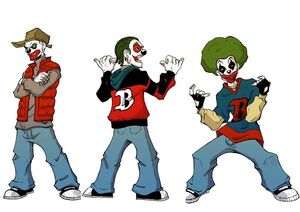 Trivia
Kluwn is based off of the hip-hop duo (with more color in his look), Insane Clown Posse.
He looks like a henchman for the Joker.
He could also be a reference to rapper Vanilla Ice, who wished to get away from his early days of rapping.
Useful links