Background
Daughter of the governor of the island of Barbadia, Kristin was kidnapped by Bloodh and his pirates while they were carrying out a lightning raid on the island's beer supplies. Delighted to finally be able to leave her tiny island and her overly strict parents, Kristin quickly became of member of the crew and is now a fully paid-up member of the Piranas.
Missions
Surprise Guests: Inflict 50 Damages with Kristin in survivor mode (02/02/2011 - 06/03/2011)
Surprise Guests II: Win 5 fights by finishing with a knock-out from Kristin (02/02/2011 - 06/03/2011)
Advantages & Disadvantages
Advantages:
Her base power is 7, which is good for a 4*.
Her base damage is 5, but becomes 7 when you fury with her, allowing you to 2HKO with some of the other members of Piranas.
Her ability cancels out an opposing card's ability, which helps make fights with her a lot easier.
If her ability is active, she becomes an all-stop, cancelling out an opposing card's ability and bonus.
She isn't bothered by SoA, since she can still rely on her bonus.
The clan bonus cancels an opposing card's bonus, which makes fights a lot easier.
She is a common, so she is easy to obtain in a pack.
Disadvantages:
Her base damage is 5, which isn't very high for a 4*.
Her ability works against her when she is facing an opponent with the ability, Stop.
Her ability is Confidence, which is harder to obtain than Revenge.
She is a 4*, so she takes up room in your deck.
She has competition from the other 4* in Piranas.
Trivia
Card Artwork
LV 4.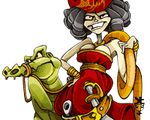 Full Artwork
External links
Community content is available under
CC-BY-SA
unless otherwise noted.