<format> Fang Pi Clang</format>
       </data>
       <data source="ability">
           <label> Ability</label>
           <default>Unknown</default>
       </data>
       <data source="bonus">
           <label> Bonus</label>
           <default>Damage +2</default>
       </data>
       <data source="rarity">
           <label>Rarity</label>
           <default>Unknown</default>
           <format>Rare</format>
       </data>
       <data source="gender">
           <label>Gender</label>
           <default>Unknown</default>
           <format> Male</format>
       </data>
   </group>
   <group>
       <header>5 Stars (

★★★★★

)</header>
       <data source="level1">
           <label>Stats Lv 1</label>
           <format>    </format>
       </data>
       <data source="level2">
           <label>Stats Lv 2</label>
           <format> 3  4 </format>
       </data>
       <data source="level3">
           <label>Stats Lv 3</label>
           <format> 4  6 </format>
       </data>
       <data source="level4">
           <label>Stats Lv 4</label>
           <format> 5  6 </format>
       </data>
       <data source="level5">
           <label>Stats Lv 5</label>
           <format> 8  6 (Gains Ability)</format>
       </data>
   </group>
   <group>
       <header>Meta Info</header>
       <data source="released">
           <label>Released</label>
           <default>Unknown</default>
       </data>
       <data source="retired">
           <label>Retired</label>
       </data>
       <data source="artist">
           <label>Artist</label>
           <default>Unknown</default>
       </data>
   </group>

</infobox>
Background
As a true disciple of the Cobra, Kuei underwent a torturous training program that was only completed once he had beaten his master in single combat. Winner of the grand tournament of the Shokan monks, Kuei arrived in Clint City to take up a new challenge - to take on and beat Lin Xia.
Web comic
This card hasn't appeared in a web comic yet.
Missions
None at the moment.
Advantages and Disadvantages of the card
Advantages:
His base power is 8, which is good for a 5*.
His base damage is 6, which is also good.
His ability cancels out an opposing card's bonus, which makes fights with him easier, especially for clans who are reliant on their bonuses.
SOA doesn't hurt him since he still can gain two damage from the clan bonus.
SOB also doesn't hurt him since he can rely on his ability.
The clan bonus gives him an extra two damage, making him a potential 8/8.
His high damage allows you to 2HKO with him with some of the other members of Fang Pi Clang.
Disadvantages:
He is a 5* so he takes up a lot of room in your deck.
His ability is Revenge, meaning you need to take damage in order to activate it.
He is a rare, so he can can be hard to get in a pack.
He has competition from the other 5* in Fang Pi Clang.
Trivia
His name is based on the Lin Kuei clan from Mortal Kombat.
In addition to his name, his former monastery is based on the Shokan race also from Mortal Kombat.
He could be based off of Ermac, who is also from Mortal Kombat.
His name is pronounced Koo-Way.
Kuei, being a true disciple of the Cobra is a reference to the snake style of martial arts. Also, Kobra, but spelt with a K, is the name of a character in Mortal Kombat.
Card Artwork
LV 5.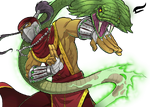 Full Artwork
LV 5.
Useful links