Background
Even as a boy Lucas dreamed of becoming a super-hero and knew that one day he'd grow up to be very strong. But he was a long way from realizing quite how so, until a mysterious accident left him with colossal strength and turned him into the hero of the ghetto. He quickly realized the importance of a secret identity and that is how the Masked Bangers was born!
Web comic
This card hasn't appeared in a web comic yet.
Missions
None at the moment.
Trivia
Lucas is based off a Marvel Comics superhero, Luke Cage, who is known for his super strength.
Advantages and Disadvantages of the card
Advantages:
Disadvantages:
Tactics
Card Artwork
LV 4.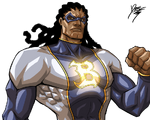 Full Artwork
Useful links