<format> Ulu Watu</format>
       </data>
       <data source="ability">
           <label> Ability</label>
           <default>Unknown</default>
       </data>
       <data source="bonus">
           <label> Bonus</label>
           <default>Power +2</default>
       </data>
       <data source="rarity">
           <label>Rarity</label>
           <default>Unknown</default>
           <format>Rare</format>
       </data>
       <data source="gender">
           <label>Gender</label>
           <default>Unknown</default>
           <format> Female</format>
       </data>
   </group>
   <group>
       <header>4 Stars (

★★★★

)</header>
       <data source="level1">
           <label>Stats Lv 1</label>
           <format> 4  1 </format>
       </data>
       <data source="level2">
           <label>Stats Lv 2</label>
           <format> 5  2 </format>
       </data>
       <data source="level3">
           <label>Stats Lv 3</label>
           <format> 6  3 </format>
       </data>
       <data source="level4">
           <label>Stats Lv 4</label>
           <format> 6  6 (Gains Ability)</format>
       </data>
       <data source="level5">
           <label>Stats Lv 5</label>
           <format>    </format>
       </data>
   </group>
   <group>
       <header>Meta Info</header>
       <data source="released">
           <label>Released</label>
           <default>Unknown</default>
       </data>
       <data source="retired">
           <label>Retired</label>
       </data>
       <data source="artist">
           <label>Artist</label>
           <default>Unknown</default>
       </data>
   </group>

</infobox>
Background
The All Stars have always looked upon Lucia as a second-rate athlete. For them, beach volleyball just about falls into the category of a fun activity but it's certainly not a sport. But Lucia's not bothered as she'd never agree to team up with the athletes. Leave the sunny beaches and trade in her bikini for sportswear? Get outta here!!!
Advantages & Disadvantages
Advantages:
Disadvantages:
Trivia
From her 2nd level artwork to the final form, she shares a resemblance with the Amazoness Quartet from the Sailor Moon Series, since they have spheres of energy just like Lucia.
Card Artwork
LV 1.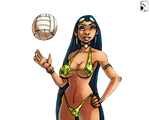 LV 2.
Full Artwork