Background
A former truck driver for the traveling markets of Poldachie-Golgovine, Maciej left his job and country to join the Freaks Circus and became their very first fire-breather. This charismatic performer never fails to fire up his audiences...
Web comic
Maciej has appeared in two separate arcs: Team B and Showdown at the Rodeo. His main contributions to both stories as brawn and because he could drive a truck. He also has a friendship with Linda or is at least a casual aquaitance.
Missions
None at the moment.
Advantages and Disadvantages
Advantages:
Disadvantages:
Trivia
Card Artwork
LV 4.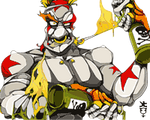 Full Artwork
Useful links
Community content is available under
CC-BY-SA
unless otherwise noted.