<format> GHEIST</format>
       </data>
       <data source="ability">
           <label> Ability</label>
           <default>Unknown</default>
       </data>
       <data source="bonus">
           <label> Bonus</label>
           <default>Stop Opp. Ability</default>
       </data>
       <data source="rarity">
           <label>Rarity</label>
           <default>Unknown</default>
           <format>Rare</format>
       </data>
       <data source="gender">
           <label>Gender</label>
           <default>Unknown</default>
           <format> Male</format>
       </data>
   </group>
   <group>
       <header>4 Stars (

★★★★

)</header>
       <data source="level1">
           <label>Stats Lv 1</label>
           <format> 3  3 </format>
       </data>
       <data source="level2">
           <label>Stats Lv 2</label>
           <format> 4  3 </format>
       </data>
       <data source="level3">
           <label>Stats Lv 3</label>
           <format> 5  5 </format>
       </data>
       <data source="level4">
           <label>Stats Lv 4</label>
           <format> 7  5 (Gains Ability)</format>
       </data>
       <data source="level5">
           <label>Stats Lv 5</label>
           <format>    </format>
       </data>
   </group>
   <group>
       <header>Meta Info</header>
       <data source="released">
           <label>Released</label>
           <default>Unknown</default>
       </data>
       <data source="retired">
           <label>Retired</label>
       </data>
       <data source="artist">
           <label>Artist</label>
           <default>Unknown</default>
       </data>
   </group>

</infobox>
Background
Every time Lilith kills a rival agent, or one of Vryer's experiments fails, or Vladimir blows up the HQ of some enemy organization, Methane quickly arrives on the scene to remove the corpses and any incriminating remains. Crossing Methane's path can only mean two things, either you're already dead or you soon will be.
Web comic
He appeared in his second level as one of the GHEIST who came to get Sigmund's capsule in the comic, Assault Under Clint River, along with other members.
He also has a small role in 50 Shades of GHEIST in his final level form where he, Gork and Ludmilla start a fight at the Hellfire Club to draw in Lois Ld, Once she takes the bait, they bring in their latest member, ARN 2000, who starts thrashing her until Vixen cuts the source of ARN 2000's power and the two Pussycats make short work of the other GHEIST members.
Missions
Vacuum Cleaner: Win 50 fights by finishing with a knock-out from Methane
Advantages & Disadvantages
Advantages:
His base power is 7, which is good for a 4*.
His base damage is 5, which is also good.
His ability increases his damage by two, making him a potential 7/7.
If you fury with him, while his ability is activated, he becomes a potential 7/9.
The clan bonus cancels out an opposing card's ability, which makes fights easier.
Disadvantages:
SoA takes away the chance to increase his damage.
Because of his ability and stats, he is almost always ELO-banned.
He is a 4*, so he takes up room in your deck.
He has competition from the other 4* in GHEIST.
Tactics
Methane is a beat stick the only tactic with him is to try and get the damage done.
Trivia
Card Artwork
LV 4.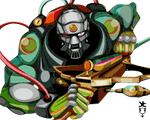 Full Artwork
Useful links