Background
Although hard to believe, Nahema had never really given Greow a second glance when he was just a plain old lion in the neighboring cage. But since he's become a rock star that's all changed. As a fellow devotee of the electric guitar, Nahema has put together her own rock band to get Greow's attention and it looks like her plan is beginning to work.
Advantages & Disadvantages
Advantages:
Disadvantages:
Webcomic
She and her band do a gig in the Hellfire Club in the comic, 50 Shades of Gheist. Unlike the others, she's fully shown in the next page, revealing it's her 4th level form.
Trivia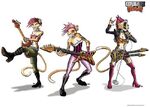 Concept art by another artist (Maxine Brienne)
Her name probably comes from the band, Nahemah.
Card Artwork
LV 5.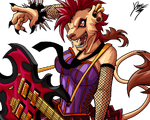 Full Artwork
LV 5.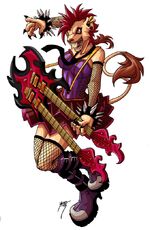 External links
Community content is available under
CC-BY-SA
unless otherwise noted.