The Sandman Will Keep You Awake - The Loop
Play Sound
Background
One evening when he was wearing his incredibly rare, favorite, Lamar Ultra Force VI special edition trainers, Naykee found himself up against two tough guys determined to steal his precious footwear…not a good idea! Watching from a distance, Bodenpower was impressed by the violent way Naykee took care of the two bullies and asked him then and there to join forces with the Bangers.
Web comic
This card hasn't appeared in a web comic yet.
Missions
None at the moment.
Trivia
Naykee's name comes from a brand of shoes called Nike.
Advantages and Disadvantages of the card
Advantages:
Disadvantages:
Tactics
Card Artwork
Full Artwork
From left to rigt LV1, LV2 and LV3.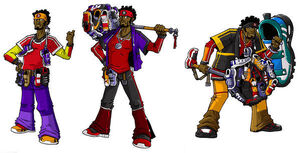 Useful links