Background
Niki was captured by the Junta while she was breaking into one of their top secret bases. After a few months in the clan's prison, General Cr offered to get her out of jail if she agreed to carry out highly dangerous missions for the clan. She accepted. Trained by Python, she soon became his protégé and together they form a killer team.
Involvement
Strategy
If you want to win with her, play her first in a round, as her ability increases her power from 2 to 6.
Missions
The First Little Protégé: Win 30 rounds with Niki (22/11/2013 - 26/01/2014)
Quotes
Trivia
Card Artwork
Full Artwork
LV 2.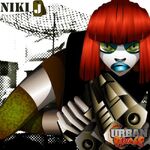 External links